I want to show you very interesting wooden items I've seen at Etsy.
The artisan
Ross Greenfield
is from US.
And there are a few nice goods from
his shop on Etsy
.
Handcrafted Ball Point Penn made of Ebony wood
Handcrafted wood pen with hexagon shaped, quality chrome plated hardware gives a utilitarian appearance. Very comfortable pen to use extensively throughout a writing experience.

Click mechanism operates the upgraded ink refill by Schmidt Easy Flow 9000. It will provide clean lines without skipping and blotting.

The Ebony wood with deep rich black grains and tinges of pale grey streaks is striking.

Shaped on the lathe, sanded with 220 grit to 12000 grit before sealing and polishing to perfection.

Made with pride using the highest quality parts, materials and craftsmanship.

Measures 5-5/8" from top of plunger to the finial tip.

This writing pen is a beautiful writing instrument that will be proudly owned and used for many years.
wooden pen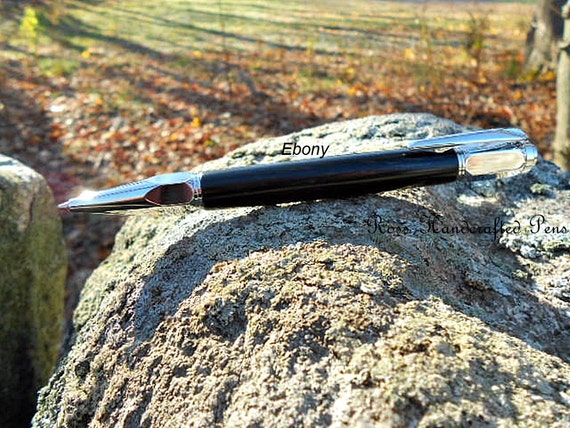 Seam Ripper with Acrylic Handle, Sewing Accessory.
Swirls of metallic greens, blues and yellow give a tremendous presentation for this small blade Seam Ripper. The steel blade slices through various thread thickness.

The opposite end of the blade is a finial that slides into the handle when used for cutting. When storing, reverse the setup to hide the blade inside the handle, as shown in the photos.

Ross came up with the shape and design of the contoured handle provides comfort and control.

After shaping the acrylic on the lathe, the surface was sanded down to a 12000 micro grit for a polished finish. Then the surface was cleaned and sealed for many years of continued use.

The Seam Ripper is made with professional Seamstress, Tailor and sewing enthusiast in mind.

**Replacement blades are available through this shop.
acrylic seam ripper

Sketch

Drawing Pencil

Handcrafted sketch pencil made with Zebrawood that was shaped on his lathe, sealed and polished to a glass-like sheen.

Length: 4-1/8"

The hardware is chrome plated.

Lead 3mm refill is operated by pressing the cap/plunger.(Additional replacement leads sold separate under Supplies in my shop section)

This sketch pencil is perfect for drawing, sketching, line drawing, and a great addition to a carpenters tool box.

Made with high quality parts, materials and craftsmanship for pride of ownership.

pencil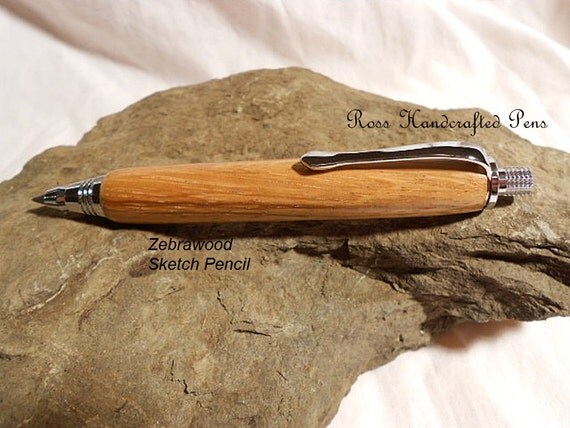 A handcrafted and one-time design Olive wood handle will give you the best shaving experience. The rich brown grain striations and creamy lighter shades of brown with olive tones is unique on its own. Coupled with design and shape of the handle makes it one of a kind.

Permanently sealed for longevity. It will not succumb to water and shaving gels, foams or shaving soap.

Hardware is quality chrome plating that will not fade, crack or peel.

The razor holder accommodates any of the Gillette Mach3 cartridges for men and Venus brands for women.

Makes a marvelous gift for someone and especially for yourself.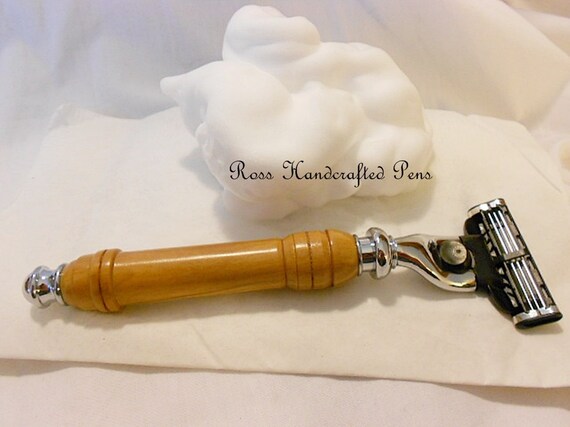 Wine Bottle Stoppers made of

Colored Acryl

Here are four different acrylic Wine Bottle Stoppers with black silicone gaskets that sit perfectly inside the neck of a bottle of wine, or similar bottle of your choice beverage. They can also be used with certain vinegar bottles and olive oil bottles.

The Grape Leaf color consists of light to dark shades of metallic green, silvery white and black unique outlined shapes.

Oceania has shades of frosty blue and darker blues fused together with white swirly lines.

Purple Rain has silvery purple with mixed dark purple and blue that are outlined by white patterns.

Snowball consists of metallic white and silvery white blends of uniquely distributed grainy striations deep inside the acrylic.

Each one is unique and will make for a

beautiful gift

for yourself, or someone special on your list.

bottle stoppers