Mersiha is pleasant crafty woman, who lives in Gracanica, a small town in Bosnia and Herzegovina and there in her workshop she creates all the amazing masterpieces, that I'm going to show you today. She mostly makes jewelry - rings, pendants, outstanding earrings and necklaces, but like any creative person, she's not afraid of experiments. Mersiha also knits, creates beautiful crochet tablecloths and doilies and makes wonderful jewelry boxes. In her works she uses gemstones, Swarovski crystals, Miyuki seed beads, SuperDuo, Tibetan silver, paper napkins, semi precious stones, old newspapers, crochet thread, copper, wire, yarn and other materials. Well, I believe, she can make anything with that kind of arsenal ))
Mersiha's entire house is her creative area - she has workshops in her room, in the kitchen and, well, wherever she goes - she makes that place her workshop. "If I continue to do so, I won't have a place to live" - she jokes))
Mersiha at her workplace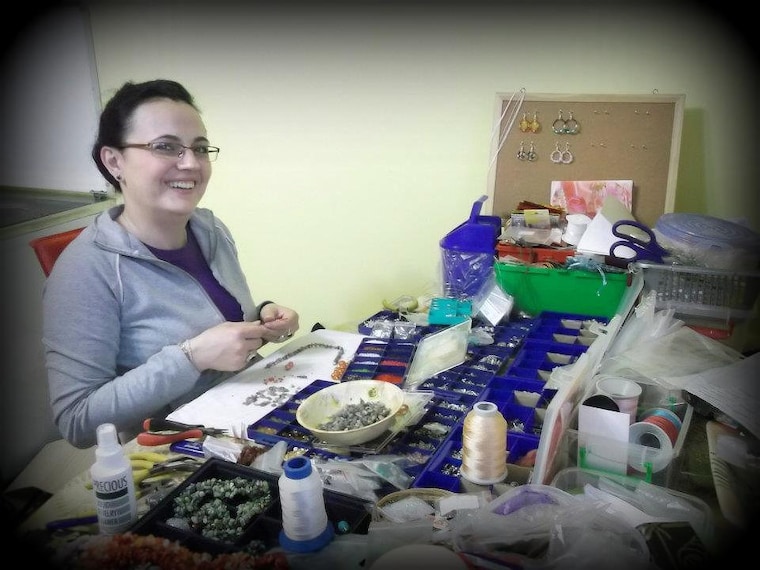 Mersiha believes, that jewelry has the power to be the one little thing that can make anyone feel unique! And I can't but agree with her on that. Especially, when I know that all her creations are unique and made with love and passion.
So now let's just enjoy the beauty together!
These earrings are made of azurite-malachite beads, gold plated spacer beads, gold plated bead caps and gold plated earring hooks. The hooks are nickel-free and does not cause allergies. Gorgeous, what else can I say?
Azurite-malachite beads
And now look at this adorable handmade genuine amber bracelet. What girl would not like to get a gift like this one?


Amber bracelet
These earrings are made of colorful MOP, Tibetan silver spacer beads and bead caps.
Colorful MOP earrings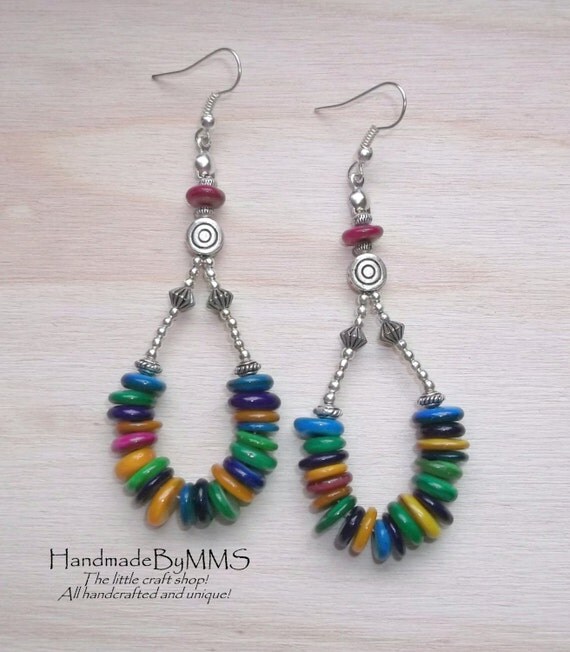 Mersiha loves beadwork! This is her new beaded elegant and feminine pendant.
To create this lovely piece of jewelry she used swarovski rivoli 18mm, piggy beads, SuperDuo, Swarovski bicones 3mm, Swarovski rondelle 3x4mm, tiny drop beads and Miyuki seed beads.


Elegant beaded pendant
Next masteriece is a bracelet with Swarovski crystals and Miyuki seed beads.
Beaded statement bracelet

To made this stunning ring Mersiha used copper wire, onyx, turquoise and imperial jasper and lots of imagination, of course. This unique ring is an outstanding work of art!
Remember, I told you about jewelry boxes? Here is obe good example. Mersiha made this small pannikin of old newspaper. She have embellished it with paper napkin and lace of golden color and then varnished it with water based varnish.
You can use it as your home decor and to put some small pieces of jewelry inside or some other small things. This pannikin is durable and water resistant.


Handcrafted small pannikin
And here is one of Mersiha's workplaces, where all the amazing things are created.
Workshop of true artisan